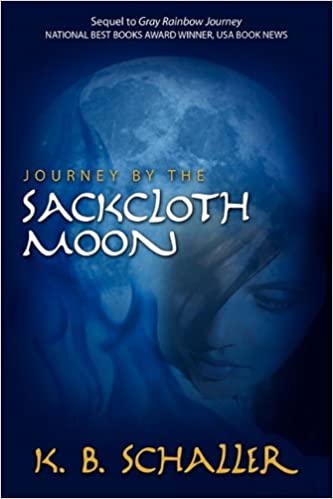 Journey by the Sackcloth Moon
Sequel to Gray Rainbow Journey, National Best Books Award Winner, USA Book News. Something is protesting Dina Youngblood's decisions… and with a vengeance. Three years after her tumultuous relationship with the handsome, bewitching Marty Osceola ends, Dina Youngblood strikes out on her first solo trip away from the Rez. A Jesus Way follower, she's determined to become a missionary to other Native Indians in Broken Bow. Perhaps, while there, she can also find a way to atone for the deep pain she caused Pastor Aaron Burning Rain, whom she rejected for Marty's love. But as she makes her way toward Broken Bow, with only her cat, Eddie Was, as a companion, the forces of Darkness conspire against her. Is what happens next a dream, a nightmare, or reality? Dina doesn't know, but she's about to find out…
Book Reviews: Journey by the Sackcloth Moon
A unique coming-of-age novel about the stunning consequences of choices, presented through Native eyes. Deftly hooks the mysterious and mystical to the message of Christianity.
-CAROLYN G. KINGCADE, Journalism Lecturer, Southern Illinois University Carbondale.
A glimpse of the cultural difficulties faced by a young Native American woman seeking her place in modern America.
-ANNE H. HOLT, Ph.D., Author (A.H. Holt) of Blood Redemption, Riding Fence, and other historical novels.
A must read for those who love TRUTH, mixed with thriller-sweet anticipation!
-BECKY KEW, Columnist for Indian Life newspaper, Youth Minister to Sandy Bay Ojibway First Nation, Manitoba, Canada.
Illuminating, thrilling, riveting, this piece of artistry will leave a lasting impression on all its readers.
-J. WAUGH, President, Christians in Action International Network.
A roller-coaster ride with electrifying twists and turns.
-JUDY BAKER, Tribal Elder, Seminole Tribe of Florida, Native American Christian Church.
Enjoyable and informative.
-KATHERINE TWISS, Co-Founder, Wiconi International.
A suspenseful, profoundly moving odyssey through a young Native American woman's heart.
-ALMA P. JOHNS, Member, Native American Christian Church Cherokee, North Carolina
Edgy and suspenseful, this story has staying power long after the reader puts it down.
-WILLIAM RATTLESNAKE JACKSON, Principal Chief, American Cherokee Confederacy I
would recommend the Native audience read this book.
-REV. DR. JERRY YELLOWHAWK, Lakota (Sioux) Evangelist, Cheyenne River Reservation, South Dakota, Former District Superintendent, Wesleyan Church